Vaste Klanten Spaarsysteem

SPAARPUNTEN
Bij ons heeft u de mogelijkheid om via een spaar-programma punten te sparen. Als u aankopen doet via een account op naam ontvangt u voor elke bestede euro (exclusief verzendkosten), 1 spaarpunten. Iedere spaarpunt is 3 cent waard.

Maximale toekenning per bestelling = 500 punten ook als het bedrag hoger is.

U krijgt spaarpunten voor al uw aankopen vanaf 12/03/20.
Voor pre-orders gedaan voor deze datum worden geen spaarpunten toegekend ook als deze nog moet worden betaald!
Deze spaarpunten kunt u na twee weken en vanaf een saldo van 1000 punten, omruilen voor kortingsvouchers. Een kortingsvoucher kunt u weer gebruiken bij uw volgende bestelling (let op, maximaal 1 voucher per bestelling)
SPAARSALDO
Wilt u weten wat uw spaarsaldo is? Onderin het scherm is een knop 'loyalty' zichtbaar. Als u bent ingelogd kunt u daar het aantal gespaarde punten zien en eventueel inwisselen voor korting. Bij geschiedenis vindt u de kortingscodes die u eerder heeft ontvangen.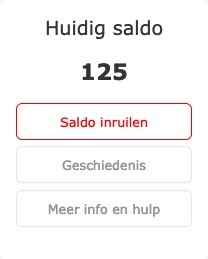 SPAARPUNTEN INRUILEN VOOR EEN KORTINGSCODE?
Vanaf een saldo van 1000 punten, kunt u het saldo verzilveren
U krijgt geen punten bij SALE artikelen
1000 spaarpunten zijn 30 euro waard
Er is géén vervaldatum op de gespaarde punten.
Er is geen vervaldatum op de kortingscodes


LET OP!! Spaarpunten mogen niet ingewisseld worden bij een pre-order!!

LET OP
Alleen klanten met een account kunnen meedoen
Per order kunt u maar 1 kortingscode gebruiken
Op de verzendkosten zijn geen punten te verdienen
De punten worden bijgeschreven zodra de order betaald is.


VEEL GESTELDE VRAGEN
Ik ben mijn punten en/of kortingscode kwijt!?
>> Oplossing: kijk onder het knopje "Geschiedenis"
Mijn korting is er niet afgegaan!?
>> Oplossing: vul de kortingscode in en klik op toepassen in de winkelmand of check-out
Mijn kortingscode werkt niet!?
>> Oplossing: neem de kortingscode exact over! Tip: gebruik copy/paste


Heb je problemen met het loyalty systeem, of vragen over je puntensaldo? Laat je dan helpen en stel je vraag via mail [email protected]. Vermeld uw naam en e-mailadres uit uw account.